George House Trust CASE STUDY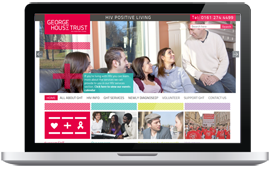 George House Trust are the largest UK health charity in their sector outside London. Whilst undertaking a full rebrand, Codecraft were brought on board to provide a fully content managed website with some interesting challenges. ... Read more
ON THIS PROJECT
HTML and CSS Authoring
For high quality and highly compatible HTML and CSS markup, look no further. We validate and test on major platforms and browsers.

---
Mobile App Development
With our complete end to end mobile app development service we design, create your app and launch it on the app store. We can track user statistics and offer in-app push messaging services.

Testimonials
"We've worked with Codecraft now for over three years and they never fail to come up with the goods."
–
Tim Chorlton
,
The Factory
"I would not hesitate to recommend Codecraft to build and develop your website."
–
David Cole
,
Cole Creative

---
RSS/XML Feed Manipulation
Engage with your visitors and entice them back by providing feed content they can subscribe to.