WAM Europe CASE STUDY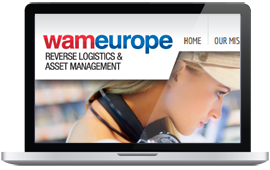 A very clean and simple corporate website for technology logistics specialists WAM Europe. ... Read more
ON THIS PROJECT
HTML and CSS Authoring
For high quality and highly compatible HTML and CSS markup, look no further. We validate and test on major platforms and browsers.

---
E-Commerce
Whatever the product (or service), we can create systems that help businesses to sell online.

---
Organic SEO
Website code that's clean and well structured plays better with search engines and will attract more organic visits.

Testimonials
"We've worked with Codecraft now for over three years and they never fail to come up with the goods."
–
Tim Chorlton
,
The Factory
"I would definitely recommend Codecraft to friends and colleagues for outstanding design and service."
–
Paul Corke
,
Subterranean Landscape

---
Mobile App Development
With our complete end to end mobile app development service we design, create your app and launch it on the app store. We can track user statistics and offer in-app push messaging services.

---
Pay Per Click Marketing
We can set up and run effective Google Adwords campaigns to bring traffic to your website.