WAM Direct CASE STUDY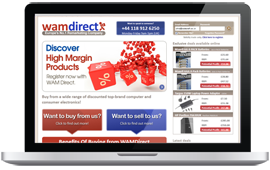 A B2B E-Commerce site for distribution giants Westcoast ... Read more
ON THIS PROJECT
E-Commerce
Whatever the product (or service), we can create systems that help businesses to sell online.

---
Pay Per Click Marketing
We can set up and run effective Google Adwords campaigns to bring traffic to your website.

---
HTML and CSS Authoring
For high quality and highly compatible HTML and CSS markup, look no further. We validate and test on major platforms and browsers.

Testimonials
"Codecraft have produced a quality product, with creative flair and attention to detail. They are extremely professional at all times."
–
Howard Strowman
,
WAMDirect.co.uk
"Time and again Codecraft deliver great work accurately, on time and on budget."
–
Conor Dardis
,
Design By House

---
Bespoke Content Management
Our content management system that gives you all the tools you need to manage your website, and none of the ones you don't.

---
Payment Integration
We can integrate 3rd party payment systems such as Paypal or Sagepay into a website.