WAM Europe CASE STUDY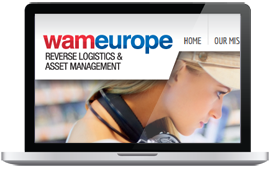 A very clean and simple corporate website for technology logistics specialists WAM Europe. ... Read more
ON THIS PROJECT
RSS/XML Feed Manipulation
Engage with your visitors and entice them back by providing feed content they can subscribe to.

---
Pay Per Click Marketing
We can set up and run effective Google Adwords campaigns to bring traffic to your website.

---
Payment Integration
We can integrate 3rd party payment systems such as Paypal or Sagepay into a website.

Testimonials
"Codecraft's ideas were creative and innovative and we worked in partnership to develop a professional and informative web site."
–
Howard Strowman
,
WAM Europe
"Time and again Codecraft deliver great work accurately, on time and on budget."
–
Conor Dardis
,
Design By House

---
E-Commerce
Whatever the product (or service), we can create systems that help businesses to sell online.

---
Bespoke Content Management
Our content management system that gives you all the tools you need to manage your website, and none of the ones you don't.