Subterranean Landscape CASE STUDY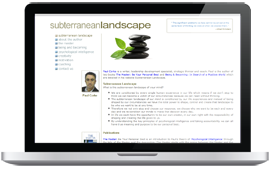 A website to promote the works of author Paul Corke ... Read more
ON THIS PROJECT
Bespoke Content Management
Our content management system that gives you all the tools you need to manage your website, and none of the ones you don't.

---
Google Analytics
Collect vital information about who is visiting your site and how. We can even help with tracking and improving conversions.

Testimonials
"We've worked with Codecraft now for over three years and they never fail to come up with the goods."
–
Tim Chorlton
,
The Factory
"Codecraft's ideas were creative and innovative and we worked in partnership to develop a professional and informative web site."
–
Howard Strowman
,
WAM Europe

---
Web & Graphic Design
Our partnerships with design agencies throughout the country allow us to offer the very best in web and graphic design.