WAM Europe CASE STUDY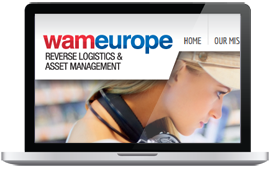 A very clean and simple corporate website for technology logistics specialists WAM Europe. ... Read more
ON THIS PROJECT
Website & Email Hosting
We can provide competitive domain names & hosting plans to all our clients to remove the hassle of dealing with multiple companies.
---
HTML and CSS Authoring
For high quality and highly compatible HTML and CSS markup, look no further. We validate and test on major platforms and browsers.

---
Organic SEO
Website code that's clean and well structured plays better with search engines and will attract more organic visits.

Testimonials
"I would definitely recommend Codecraft to friends and colleagues for outstanding design and service."
–
Paul Corke
,
Subterranean Landscape
"Codecraft's ideas were creative and innovative and we worked in partnership to develop a professional and informative web site."
–
Howard Strowman
,
WAM Europe

---
Google Analytics
Collect vital information about who is visiting your site and how. We can even help with tracking and improving conversions.

---
HTML5 Forms & Integration
For many sites, the end goal is to generate signups or enquiries, HTML forms are the backbone of interactive websites.