Subterranean Landscape CASE STUDY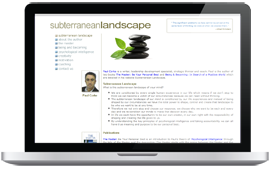 A website to promote the works of author Paul Corke ... Read more
ON THIS PROJECT
Geolocation/GPS Components
Allow website visitors to find your facilities nearest to them, either by postcode through their GPS enabled device.

---
Bespoke PHP & MySQL Coding
If you need a more dynamic website or one driven by a database, talk to us about PHP and MySQL.

Testimonials
"We've worked with Codecraft now for over three years and they never fail to come up with the goods."
–
Tim Chorlton
,
The Factory
"Time and again Codecraft deliver great work accurately, on time and on budget."
–
Conor Dardis
,
Design By House

---
RSS/XML Feed Manipulation
Engage with your visitors and entice them back by providing feed content they can subscribe to.