WAM Europe CASE STUDY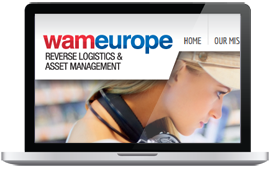 A very clean and simple corporate website for technology logistics specialists WAM Europe. ... Read more
ON THIS PROJECT
Website & Email Hosting
We can provide competitive domain names & hosting plans to all our clients to remove the hassle of dealing with multiple companies.
---
Mobile App Development
With our complete end to end mobile app development service we design, create your app and launch it on the app store. We can track user statistics and offer in-app push messaging services.

---
Pay Per Click Marketing
We can set up and run effective Google Adwords campaigns to bring traffic to your website.

Testimonials
"Time and again Codecraft deliver great work accurately, on time and on budget."
–
Conor Dardis
,
Design By House
"We've worked with Codecraft now for over three years and they never fail to come up with the goods."
–
Tim Chorlton
,
The Factory

---
Web & Graphic Design
Our partnerships with design agencies throughout the country allow us to offer the very best in web and graphic design.

---
Bespoke Content Management
Our content management system that gives you all the tools you need to manage your website, and none of the ones you don't.